For Immediate Release:
Friday, April 8, 2022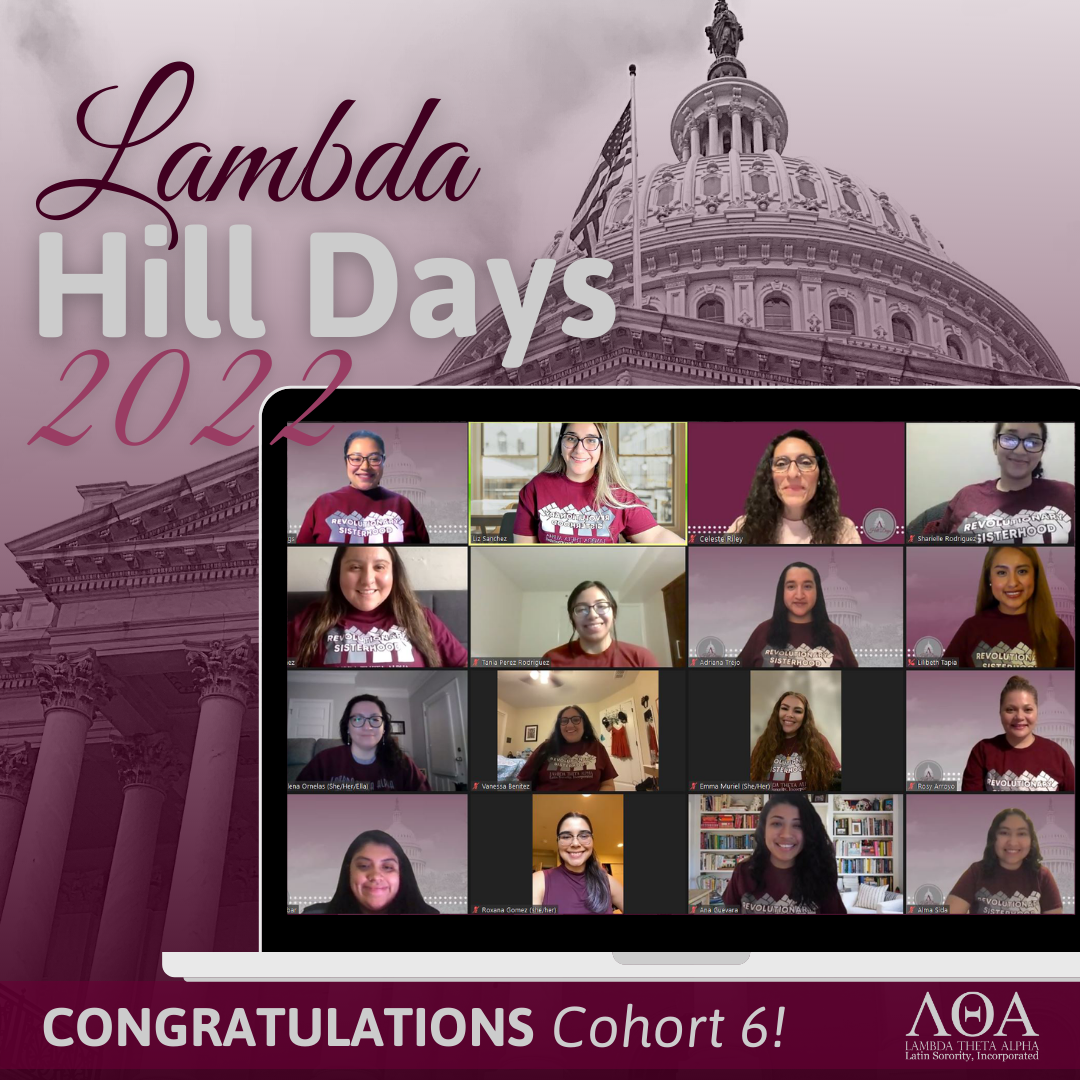 Washington, D.C. – On March 28-April 1, Lambda Theta Alpha Latin Sorority, Inc. hosted its sixth annual Lambda Hill Days. Although the National Political Education Initiative Committee (PEI) planned to resume an in-person event this year, due to increased cases of COVID-19 and the majority of Congressional leaders only accepting virtual meetings, the PEI Committee had to make the difficult decision to pivot to a virtual model. This year, the 17-cohort members selected the topics they would focus on, including immigration, mental health, student loan forgiveness, and climate change, just to name a few. Due to the virtual model, the PEI Committee expanded the advocacy initiative from 3 days to a whole week to provide more flexibility.
Prior to the meetings, cohort members were trained via a full day training where they learned how to effectively meet with our House Representatives and Senators. Lambda Theta Alpha Alumnae Maria Robayo, Monica Gibbs, and Jennifer Rincones shared best practices for contacting representatives, effective communication, and meeting etiquette.
Additionally, we had Jaime Rangel, Georgia State Director with FWD.us, a bipartisan organization founded by leaders in the tech and business industry who advocate for criminal justice and immigration reform. Members also participated in a mock practice session with the PEI Committee to discuss strategies, ask questions and support each other with planning meetings.
Cohort members confirmed a total of 28 meetings with Senators and U.S. Representatives. While meeting with members of the 117th Congress, the participants shared personal experiences and stories from their respective communities in hopes of igniting change.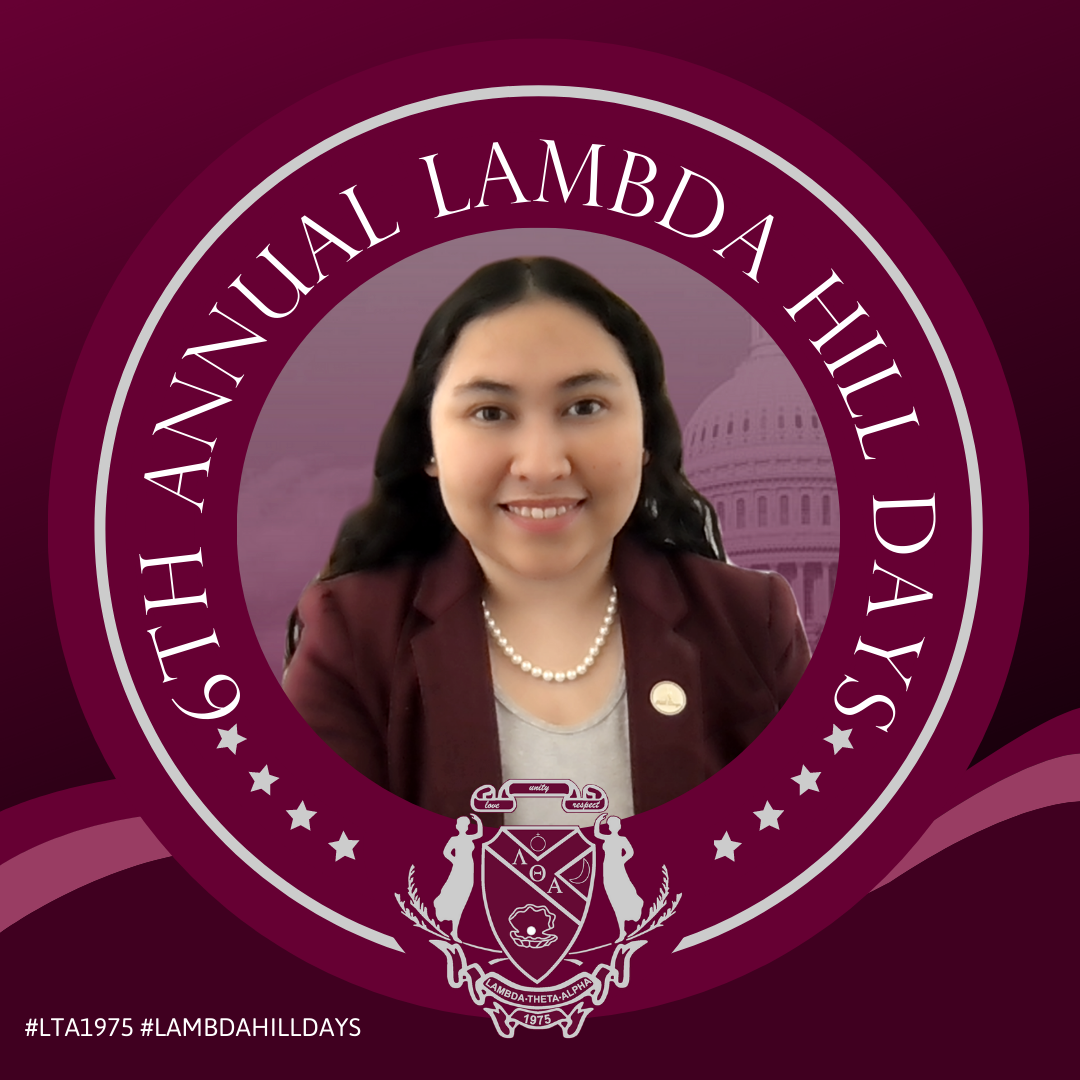 Cohort member Alma Sida (Gamma Mu Chapter, Spring 2018) expressed her thoughts regarding the preparedness in going into the meetings with her Congress Members: "I gained a deeper understanding of the kinds of demands we can request from our congressional representatives. I can ask that they support bills on the floor today, but I can also ask that they join committees or make statements/write letters supporting other projects or initiatives."
The sorority's deep roots in political activism stem from its inception in 1975. Founded amidst political tension in the 1970s, the sorority's Founding Mothers served as a voice for all students and members of their community. To the present day, members continue to raise awareness on social issues and advocate for marginalized groups.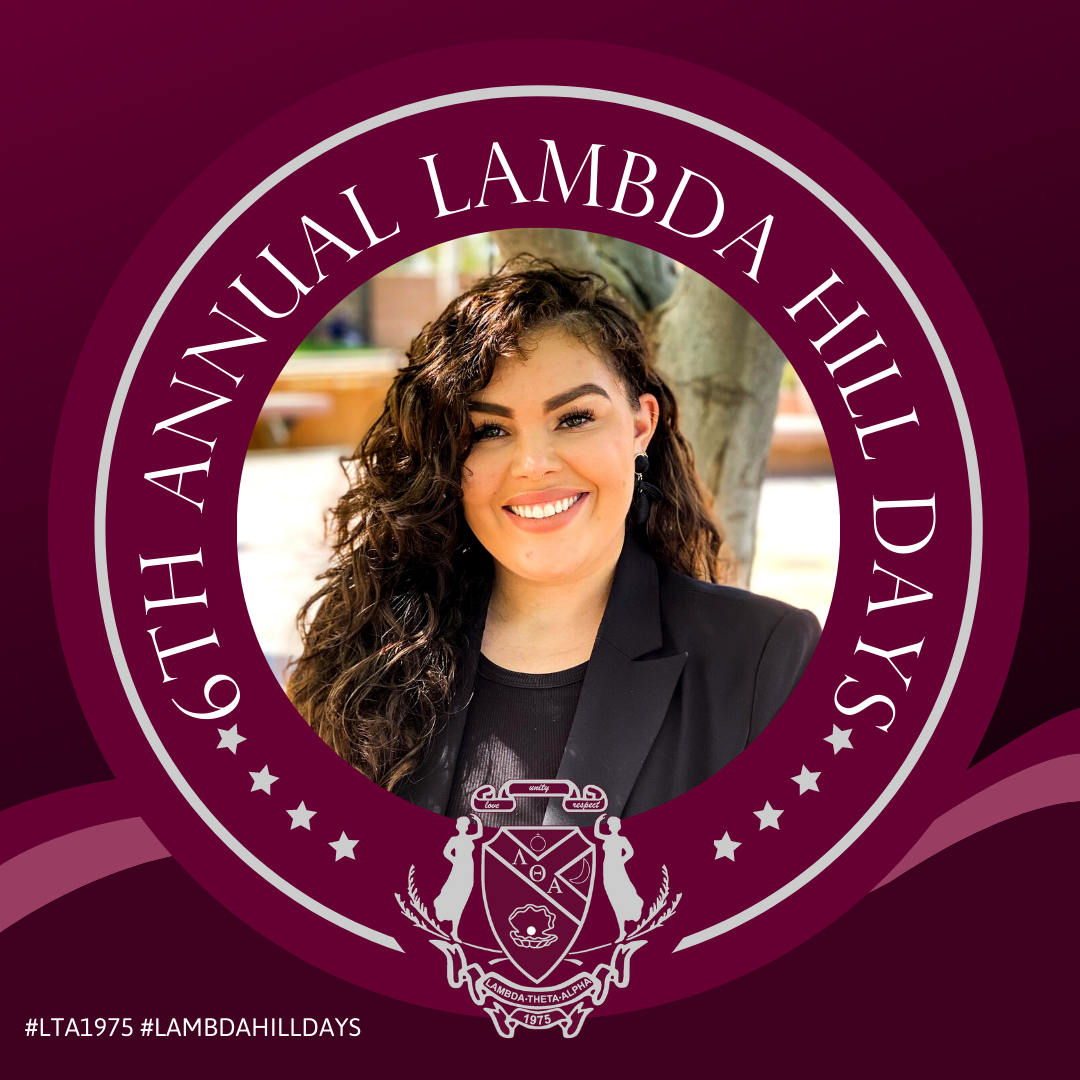 Cohort member Emma Muriel (Epsilon Kappa Chapter, Fall 2013) shared her experience by stating, "Being a part of the Lambda Hill Days cohort allowed me to hone my public speaking skills, fine-tune my advocacy message, and grow my confidence in speaking to elected leaders on topics that are crucial for my community. This program provides a unique opportunity for advocacy and learning through our sisterhood, and I could not be more grateful for the chance to participate!"
For photos of the virtual week-long program, check out the hashtag #LambdaHillDays on Instagram. The following cohort members attended meetings with members of Congress:
| | | |
| --- | --- | --- |
| Rebekka Behr | Fall 2018 | Gamma Epsilon Chapter |
| Vanessa Benitez | Fall 2020 | Epsilon Alpha Chapter |
| Luz Escobar Zapata | Fall 2021 | Epsilon Eta Chapter |
| Roxana Gomez | Spring 2018 | Alpha Theta Alumnae Chapter |
| Estephany Gonzalez | Spring 2021 | Gamma Omicron Chapter |
| Ana Guevara | Spring 2021 | Alpha Zeta Alumnae Chapter |
| Gabriela Lopez | Spring 2020 | Nu Chapter |
| Karina Moreno Bueno | Spring 2019 | Zeta Mu Chapter |
| Emma Muriel | Fall 2013 | Epsilon Kappa Chapter |
| Lily Nunez | Spring 2017 | Alpha Alpha Beta Alumnae Chapter |
| Mariana Ortiz | Spring 2018 | Delta Beta Chapter |
| Tania Perez | Spring 2019 | Zeta Eta Chapter |
| Cristina Rodriguez | Fall 2019 | Chi Chapter |
| Sharielle Rodriguez | Fall 2020 | Epsilon Eta Chapter |
| Liz Sánchez | Fall 2015 | Alpha Eta Alumnae Chapter |
| Alma Sida | Spring 2018 | Gamma Mu Chapter |
| Adriana Trejo | Spring 2019 | Epsilon Tau Chapter |
Contact:
Nathalie Canadas, Vice President of External Affairs
Lambda Theta Alpha Latin Sorority, Inc.
externalaffairs@lambdalady.org
###
About Lambda Theta Alpha
Lambda Theta Alpha was founded at Kean University in 1975 as the first Latina sorority in the nation. The Sorority strives to develop strong leaders that produce and engage in political, social and cultural activities. Based on the principles of Unity, Love and Respect, the Sorority was established for the unification of women through charitable and educational programs. Although founded as Latin by tradition, the Sorority is inclusive to all women regardless of race, color, creed, sexual identity, gender expression, or religious beliefs.