July 16, 2019
Denver, CO – Nearly 500 sisters of Lambda Theta Alpha Latin Sorority, Inc. convened at the Hyatt Regency Denver at Colorado Convention Center June 27-30 for its annual Leadership Summit and National Convention. The four days included opportunities for sisters from all over the country to engage in sisterhood bonding, learn more about our sorority's history, attend educational and motivational seminars, and celebrate each other and the sorority's accomplishments.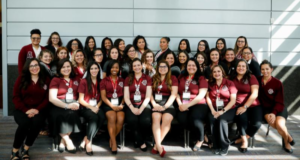 The sorority's regional leadership team arrived on Thursday, ahead of the general membership to receive training, collaborate on plans for the upcoming sorority year, engage in community service, and network. This year's National Convention community service initiative was a donation drive with the Denver Rescue Mission, a non-profit dedicated to helping individuals experiencing homelessness and addiction in Denver. Collectively, convention attendees donated $7,000 worth of personal hygiene products and $1,661 for the initiative! Several sisters also had the opportunity to serve meals and do meal prep at the nearby Denver Rescue Mission location.
This year's theme, "Moving Mountains: Sisterhood Climbing to New Heights," inspired members to reconnect with the sisterhood and focus on our principles of unity, love and respect. 184 Alumnae members came together at Museo de las Americas for our Alumnae Reception, which included a special auction that raised over $1250 benefiting the Lambda Theta Alpha Foundation.
On Saturday, Founding Mothers, Line 1 and other notable members shared insightful moments of Lambda Theta Alpha's history during the Herstory session. Alumna sister Evelyn Mejil, founder and CEO of EM Power Woman 360, LLC, delivered a keynote address to empower sisters to embark on a journey to discover the power of one's authentic self. Following a series of professional development workshops, the Awards Luncheon highlighted outstanding chapters and sisters who have exceeded expectations through scholarship, service, political activism and sisterhood. The recipients of the 2019 National Awards were:
Philanthropic Sister of the Year
Lilytte Tagala
Beta Kappa Chapter Alumna
Alpha Sigma Alumnae Chapter
Political Activist Sister of the Year
Maria del Rosario Palacios
Alpha Sigma Alumnae Chapter
Undergraduate Sister of the Year
Jasmine Jimenez
Delta Beta Chapter
New Sister of the Year
Bianca Avila
Zeta Chi Chapter
Alumna Sister of the Year
Dejah McCoy
Beta Theta Chapter
Campus Leader of the Year
Michaella Tancayo
Zeta Chi Chapter
Rising Professional of the Year
Cindy Ezcurra
Alpha Delta Alumnae Chapter
Professional of the Year
Brittani Carter
Delta Beta Chapter Alumna
Lourdes Cortes Scholarship for Academic Excellence
Alma Sida Ontiveros
Gamma Mu Chapter
Universal Mother Award
Liz Lizama
Upsilon Chapter Alumna
Alpha Delta Alumnae Chapter
Principles Award
Amy Vicente
Delta Beta Chapter
Philanthropic Chapter of the Year
Beta Omega Chapter
Wayne State University
Political Activist Chapter of the Year
Alpha Sigma Alumnae Chapter
Atlanta, GA
Undergraduate Chapter of the Year
Delta Rho Chapter
University of California, Los Angeles
New Chapter of the Year
Eta Alpha Chapter
University of Northern Iowa
Region of the Year
Southeast Region
Area of the Year
Michigan Area One
Outstanding Service to St. Jude Award
Gamma Nu Chapter
Emory University
Greek Advisor of the Year Award
Tenea Lowery
University of Tennessee-Knoxville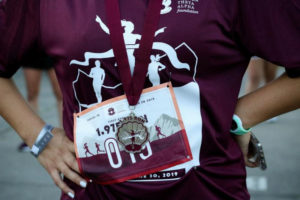 The Lambda Theta Alpha Foundation continued to play an integral part during the National Convention. Aligned with its goal to provide educational programming, the LTA Foundation sponsored this year's keynote speaker. For the second year in a row, 17 high school and college students on all degree levels were awarded scholarships in the amount of $1,000 each. At the Awards Luncheon, scholarship recipient Jimmy Day III who will be attending Arizona State University in the fall shared brief remarks. Additionally, the LTA Foundation held their inaugural 1.975 Walk/Run in the early morning on Sunday, before the closing ceremonies. It was also announced that the sorority had superseded its commitment goal of $25,000 by raising $26,384 for the LTA Foundation.
Nichole Aldape, Regional Executive Director of the Houston and San Antonio ALSAC/St. Jude Children's Research Hospital office provided remarks on our partnership, then introduced patient Bertha Lopez, who shared her personal story of hope and how others like her are grateful for donors like Lambda Theta Alpha. A check was then presented by the Board of Directors to St Jude reflecting the total amount raised of $53,010 during the 2018-2019 sorority year, which brings the total funds raised to more than $460,365 since the partnership began in 2010.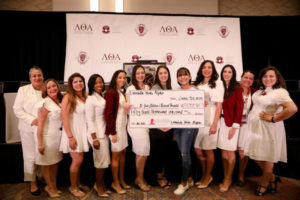 To conclude the weekend, the Board of Directors held the State of the Sisterhood, praised the outgoing area and regional leaders for their hard work and dedication throughout the year, thanked the National Advisors for their ongoing support and welcomed the incoming 2019-2020 leadership at all levels, including the returning national officers to the Board of Directors:
Vice President of Internal Affairs
Alexis L. Richbourg, Delta Beta Chapter
Vice President of Finance
Michelle Grossman, Gamma Beta Chapter
Director of Risk Management
Aleyda Cantu-Olivarez, Beta Eta Chapter
Director of Alumnae Affairs
Lisandra Sanchez, Beta Epsilon Chapter
Director of Recruitment and Retention
Wendy Castro, Gamma Tau Chapter
The Board of Directors would like to thank all who helped make this event a success, including the 2019 Convention Committee, photographer, DJ, speakers, sponsors, volunteers and staff at the Hyatt Regency Denver at Colorado Convention Center. We look forward to our 2020 National Convention, which will be held in Atlantic City, New Jersey to commemorate 45 years of sisterhood!
2019 Convention Committee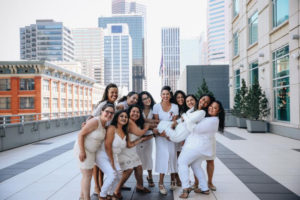 All photos featured taken by Chettara T. Photography
###
About Lambda Theta Alpha
Lambda Theta Alpha was founded at Kean University in 1975 as the first Latina sorority in the nation. Lambda Theta Alpha strives to develop strong leaders that produce and engage in political, social, and cultural activities. Based on the principles of Unity, Love and Respect, the Sorority was established for the unification of women through charitable and educational programs. Although Lambda Theta Alpha is Latin by tradition, the Sorority is inclusive to all women regardless of race, color, creed, sexual identity, gender expression, or religious beliefs.