For Immediate Release:
Monday, May 10, 2021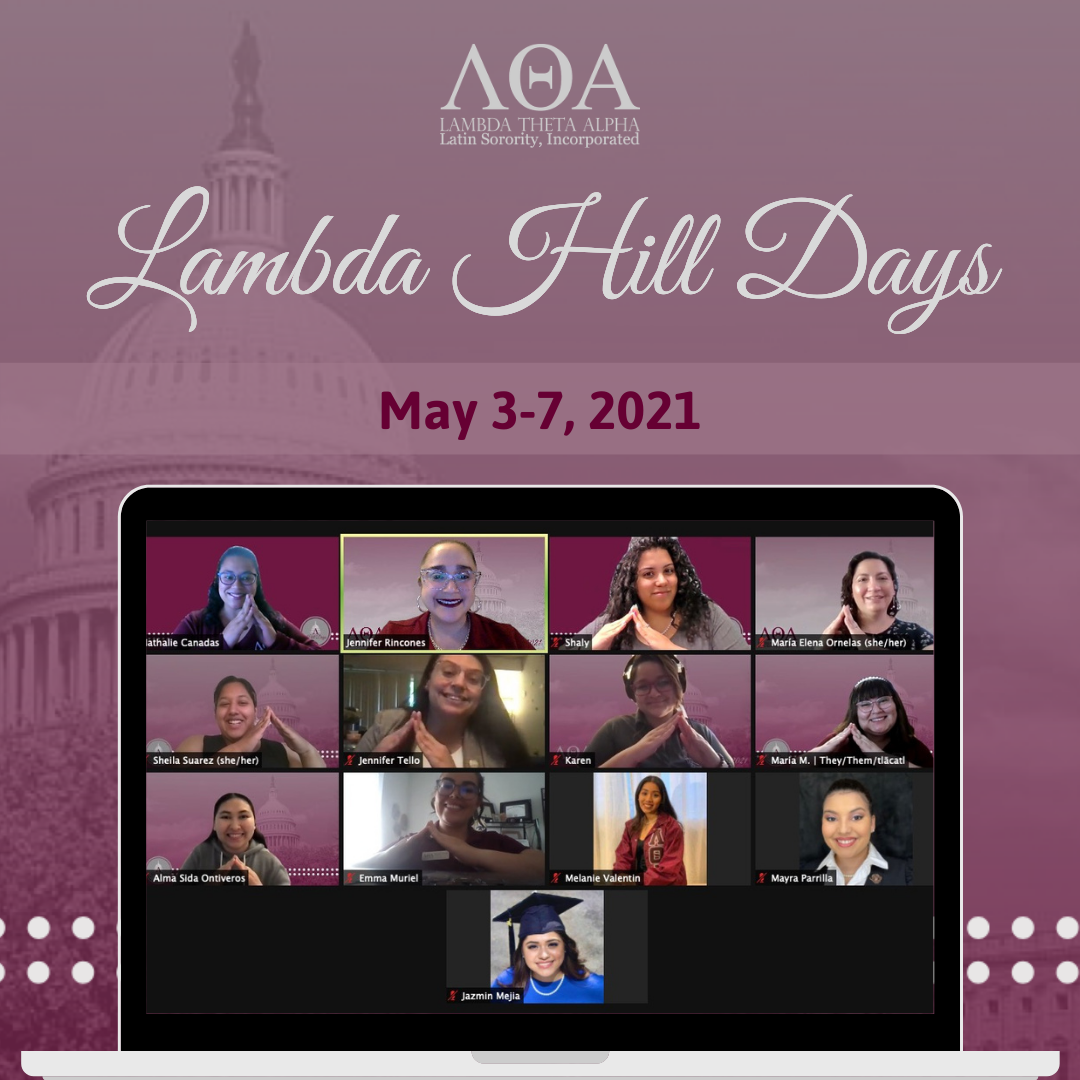 Washington, D.C. – On May 3-7, Lambda Theta Alpha Latin Sorority, Inc. hosted its fifth annual Lambda Hill Days. Due to the pandemic, this year's event was hosted virtually with our members and their Congressional Leaders. This year, the 19-member cohort selected the topics they would focus on, which included immigration, public health and education reform. The National Political Education Initiative Committee (PEI) elected to expand the advocacy initiative from 3 days to a whole week to provide more flexibility due to the virtual setting. Traditionally, Lambda Hill Days is in person and we did not want to lose out on the momentum and impact this national event brings so we decided to allow our sorority members to partake once more in this educational experience with a few modifications.
Prior to the meetings, cohort members were trained via weekly webinars where they learned how to effectively meet with our House Representatives and Senators. Lambda Theta Alpha Alumnae Isabel Sanchez and Lanette Garcia, Capitol Hill Staffers, provided their shared political experiences in best practices in lobbying and meeting with Congressional Leaders. Additionally, Poder Latinx, a non-partisan organization whose "mission is to build a political wave where the Latinx community plays a key role in the transformation of our country, where immigrants, Latinx and other people of color are decision-makers of our political process" and which was co-founded by sorority alumna Yadira Sanchez; provided a virtual webinar with the cohort including hosting mock congressional meetings with participants.
While meeting with Members of Congress, the 19 participants shared personal experiences and stories from their respective communities in hopes of igniting change and making immigration reform a priority for the 116th Congress.
Sister Maria Elena Ornelas (Gamma Beta Chapter, Spring 2005) expressed her thoughts regarding the preparedness in going into the meetings with her Congress Members: "I've only recently started engaging with political activism and this program has provided me with more preparation than any other program I've attended", she continued, "I believe this year's program was just as effective in having our opinions heard and allowed us to continue upholding LTA's foundation of activism and civic engagement."
The sorority's deep roots in political activism stems from its inception in 1975. Founded amidst political tension of the 1970s, the sorority's Founding Mothers served as a voice for all students and members of their community. To present day, members continue to raise awareness on social issues and advocate for marginalized groups.
Sister Jennifer Tello (Alpha Delta Alumnae Chapter, Spring 2016) shared her experience by stating, "I have gained an improvement of confidence and expanded my knowledge on various legislation. People typically feel intimidated speaking to politicians or their staff but they are here to serve you so make your voice heard!"
In an effort to invoke action and strengthen its voice, Lambda Theta Alpha created the PEI Committee in 2012. The inaugural Lambda Hill Days program was held in 2017 along with Lambda Theta Phi Latin Fraternity, Inc. The sorority looks forward to continuing the growth and improving the program for the future.
"I raise up my voice – not so I can shout but so that those without a voice can be heard." – Malala Yousafzai
For photos of the virtual week-long program, check out the hashtag #LambdaHillDays on Instagram. The following cohort members attended meetings with members of Congress:
| | | |
| --- | --- | --- |
| Isabel Cruz | Spring 2018 | Gamma Eta Chapter |
| Shalymar Cruz | Spring 2010 | Kappa Chapter |
| Jazmin Edwards | Fall 2018 | Chi Chapter |
| Maria Elena Ornelas | Spring 2005 | Gamma Beta Chapter |
| Karen Gonzalez | Spring 2017 | Zeta Chi Chapter |
| Brenda Gutierrez | Fall 2013 | Epsilon Alpha Chapter |
| Maria Medina | Spring 2019 | Delta Omicron Chapter |
| Jazmin Mejia | Spring 2020 | Delta Beta Chapter |
| Nicole Mejia | Spring 2019 | Delta Pi Chapter |
| Emma Muriel | Fall 2013 | Epsilon Kappa Chapter |
| Mayra Parrilla Guerrero | Spring 2016 | Zeta Theta Chapter |
| Lisandra Sanchez | Fall 2001 | Beta Epsilon Chapter |
| Valerie Savala | Spring 2020 | Eta Gamma Chapter |
| Alma Sida | Spring 2018 | Gamma Mu Chapter |
| Sheila Suarez | Spring 2017 | Beta Kappa Chapter |
| Jennifer Tello | Spring 2016 | Alpha Delta Alumnae Chapter |
| Melanie Valentin | Fall 2020 | Epsilon Gamma Chapter |
| Estrella Vazquez-Hernandez | Fall 2020 | Beta Phi Chapter |
| Andrea N. Zorbas | Spring 2004 | Gamma Mu Chapter |
Contact:
Nathalie Canadas, Vice President of External Affairs
Lambda Theta Alpha Latin Sorority, Inc.
externalaffairs@lambdalady.org
###
About Lambda Theta Alpha
Lambda Theta Alpha was founded at Kean University in 1975 as the first Latina sorority in the nation. The Sorority strives to develop strong leaders that produce and engage in political, social and cultural activities. Based on the principles of Unity, Love and Respect, the Sorority was established for the unification of women through charitable and educational programs. Although founded as Latin by tradition, the Sorority is inclusive to all women regardless of race, color, creed, sexual identity, gender expression, or religious beliefs.