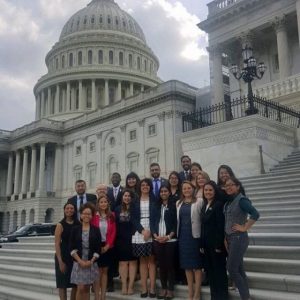 Washington, D.C
. – On April 27-28, 2017, Lambda Theta Alpha Latin S
orority, Inc. and Lambda Theta Phi Latin Fraternity, Inc. hosted a two-day advocacy p
rogram on Capitol Hill. The "Lambda Hill Days" served as a direct opportunity for sorority and fraternity members from all over the U.S. to communicate with Congressional leaders on behalf of local communities.
As a result of a poll conducted with members earlier this year, the core focus of the meetings was immigration reform. Members commenced the program at the Congressional Hispanic Caucus Institute office where FWD.us staff provided a training on storytelling to prepare participants for their congressional visits. With more than 20 meetings held over the course of two days, members shared their personal experiences concerning immigration in hopes of igniting change and making immigration reform a priority for the 115th Congress.
Roberto Orozco, Director of Community Affairs of Lambda Theta Phi, underscored the importance of this event. "The execution of our inaugural program is a moment of putting our philosophy and ideals into practice," he said. "We must remember that immigration is an interconnected issue with other forms of identity, and that we must take a multi-faceted approach to working for progress when it comes to liberation for all of us."
Yahaira (Pamela) Morales Castro from Austin, TX was one of 20 program participants and a sister of Lambda Theta Alpha. "The policies put into place in this country affect everyone to some extent, and I believe it is imperative to remain conscious and active citizens who critically assess the political context and how it affects those around us," Morales Castro said. "As an organization built on political and social advocacy, I think this program is a perfect, contemporary opportunity to get our members engaged into the political realm and help them explore their roles and power as people of this nation."
Both national organizations have stressed political awareness and advocacy in their over 40-year history. As the first Latino sorority and fraternity in the U.S., they were founded during a time of political strife and injustices in the 1970s, inspiring them to take a stance on issues affecting the college student and local communities. Today, they continue with this approach by raising awareness and advocating for marginalized communities.
In an effort to invoke action and formalize their voice during a time when marginalized communities need an avenue to create a movement, Lambda Theta Alpha created the Political Education Initiative (PEI) Committee in 2012. Lambda Theta Phi created a Committee On Social Activism (COSA) with a focus on the Lambdas for Immigration Reform Initiative (#Lambdas4Reform). As a further testament to political education and advocacy, both organizations joined forces to organize Lambda Hill Days this year.
Contacts:
Liz Lizama, Lambda Theta Alpha
Jarrod Cruz, Lambda Theta Phi
###
About Lambda Theta Alpha
Lambda Theta Alpha was founded at Kean University in 1975 as the first Latina sorority in the nation. The Sorority strives to develop strong leaders that produce and engage in political, social and cultural activities. Based on the principles of Unity, Love and Respect, the Sorority was established for the unification of women through charitable and educational programs. Although founded as Latin by tradition, the Sorority is inclusive to all women regardless of race, color, creed, sexual identity, gender expression, or religious beliefs.
About Lambda Theta Phi
Lambda Theta Phi was born to promote the spirit of brotherhood, to protect the rights of Latin@ students in their quest for an education, to promote the rich Latino culture, and to maximize leadership potentials to provide guidance to our community.